It's blueberry season, folks!
I've included a poem and recipe both featuring the revered blueberry (or blueb as I like to call them) to inspire and tempt you to pick some up at the market this coming Saturday. The Blueberry Patch will be on site with oodles of them!
Blueberry
By Diane Lockward
Deep-blue hue of the body, silvery bloom
on its skin. Undersized runt of a fruit,
like something that failed to thrive, dented top
a fontanel. Lopsided globe. A temperate zone.
Tiny paradox, tart and sweet, homely
but elegant afloat in sugar and cream,
baked in a pie, a cobbler, a muffin.
The power of blue. Number one antioxidant fruit,
bantam-weight champ in the fight against
urinary tract infections, best supporting actor
in a fruit salad. No peeling, coring or cutting.
Lay them out on a counter, strands of blue pearls.
Pop one at a time, like M&M's, into your mouth.
Be a glutton and stuff in a handful, your tongue,
lips, chin dyed blue, as if feasting on indigo.
Fruit of the state of New Jersey.
Favorite fruit of my mother.
Sundays she scooped them into pancake batter,
poured circles onto the hot greased griddle, sizzled
them gold and blue, doused with maple syrup.
This is what I want to remember: my mother
and me, our quilted robes, hair in curlers,
that kitchen, that table,
plates stacked with pancakes, blueberries sparkling
like gemstones, blue stars in a gold sky,
the universe in reverse,
the two of us eating blueberry pancakes.
If reading that poem didn't make your mouth water in the slightest, how does a recipe for lemon blueberry muffins sound?
Unfortunately, I was not granted permission to share my grandma's award-winning (well, not technically-but they should be!) lemon blueberry muffin recipe. Instead, I was able to find plenty of similar recipes online that still use yogurt to make them super moist and super tasty. Grandma uses lemon yogurt if you can find it. That's all that I can tell you or else she may never make them for me again. If you can handle turning the oven on in this heat, give this recipe from Oh My Goodness Desserts a try.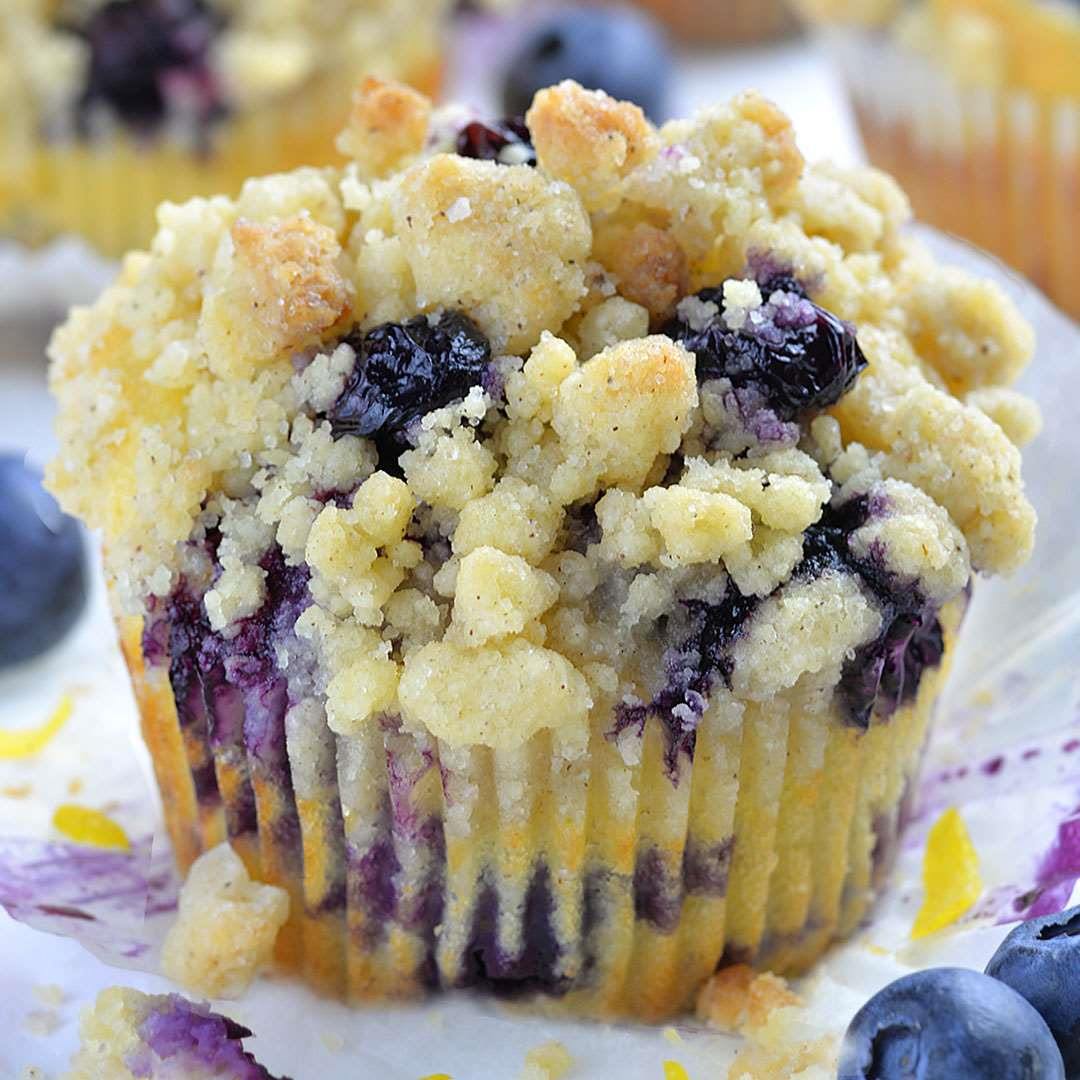 Lemon Blueberry Muffins
Ingredients
For Streusel Topping:
1 cup all-purpose flour
1/2 cup granulated sugar
½ teaspoon cinnamon (or more to taste)
6.5 Tablespoon unsalted butter-melted
For Lemon Blueberry Muffins:
1 ½ cups all-purpose flour
2 teaspoons baking powder
1/4 teaspoon salt
2/3 cup granulated sugar
1 Tablespoon grated lemon zest
2 eggs
2/3 cup Greek yogurt
1/3 cup vegetable oil
1 teaspoon vanilla extract
2 Tablespoons fresh lemon juice
1 and 1/3 cups blueberries-fresh or frozen (reserve ½ cup of blueberries for topping)
1 tablespoon flour
Instructions
Preheat oven to 400 F degrees and line standard muffin or cupcake pan with paper liners and set aside.
To make the crumb topping in a small bowl, whisk together flour, sugar and cinnamon, add melted butter and stir with a fork until crumbly. Refrigerate until ready to use.
To make the muffins in large bowl stir together flour, baking powder and salt and set aside.
In a medium bowl place 2/3 cup granulated sugar and lemon zest and rub for a minute. Add eggs and whisk together eggs and lemon-sugar until combined. Whisk in yogurt, oil, lemon juice and vanilla extract (mixture should be pale and yellow)
Fold wet ingredients into dry ingredients and whisk everything together.
Reserve ½ cup of blueberries for topping. Place remaining blueberries in a small bowl. Dust blueberries with 1 tablespoon flour and toss them until all blueberries are coated with thin layer of flour and then fold them really gently in the batter.
Spoon batter into prepared muffin tins, filling maximum 2/3 of each cup and gently tap the pan on the work surface to set. Cover the batter with the remaining blueberries and then cover the blueberries generously with streusel topping.
Place them in the oven and bake at 400 F for 5 minutes, then REDUCE THE OVEN TEMPERATURE TO 375 F and bake 13-15 minutes or until the toothpick inserted in the center comes out clean.
Cool for 5 minutes in the pan then remove muffins and cool on a wire rack.
Enjoy!! See you at the market this Saturday from 9-1 behind the Visitor's Centre!
This week's extraordinary vendors include:
Aprons With Pizzaz
Black and Beck Farm
The Blueberry Patch & Farm Girls Fresh Cut Flowers
Brittany's Flower Farm
Cartwheel Farm
Caste Meadows
Coffee and Arrows Paleo Bar
Cookville Community Farm
Creston Fall Fair
CVFAC
Dave Did It
Dave the Rock Guy
Dragenfly Bags
Essential Elements
Evenly Creations
Family Tent
Flamenco Farms
Gluten Free Guilt
Inner Sun Creations
Iron Skillet
Ki Mana Acres
Kootenay Cameos
Kootenay Copper
Lago: Exotic Jewelry and Design
Moondaughter Jewelry
Mucky Boots Farm
Omi's Brittle
Orde Creek Pottery
Patio Pals
Picnic Patch
Pridham Studio
Purple House Farm
Red Bird Estate Winery
Red's Jewelry
Roger's Crafts & Pat's Baking
Root & Vine Acres
Skimerhorn Studio
Spectrum Farm
Sweet Turtle Chocolates
Tarzwell Farm
The Peppered Pig
The Steady Edge
Treasures From the Heart
Ute Bachinski Studio
Wendy Franz Art
William Tell
Wynndel Craft Distillery
Wynnwood Cellars
Yellow Rose Soap Co
Yum Soaps